Discover more from Transportist
A newsletter on transport
Over 3,000 subscribers
WSTLUR 2017
A reminder, paper submissions for the 2017 World Symposium on Transport and Land Use Research in Brisbane are due Oct. 31.
World Symposium on Transport and Land Use Research 2017
July 3rd- July 6th, 2017 Brisbane, Queensland, Australia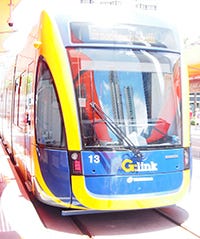 We are pleased to announce that the 2017 World Symposium on Transport and Land Use Research (WSTLUR) will be held in Brisbane, Queensland, Australia, July 3rd- July 6th, 2017. The conference will bring together academics and practitioners working at the intersection of transportation planning, engineering, economics and policy. The conference is aimed at developing a better understanding of the dynamic interaction between land use and transport, with strong interest in how the built environment can contribute to more sustainable transport in a rapidly changing world. Papers are welcome on all modes of personal, passenger, and freight transport on all spatial scales (see Call for Papers). The conference brings together researchers and topics from all parts of the world.
The conference program will feature peer-reviewed paper presentations, workshops, technical tours, and plenary presentations from:
In addition to a thorough exploration of a wide range of land use and transportation issues, the 2017 conference will emphasize two spotlight themes: technological change and equity. Specifically, how will technological change influence the development of land use and transportation systems in the future? What equity issues will emerge via future changes in land use and transportation systems? How do technology and equity relate in the context of land use and transportation systems?
---
The World Symposium on Transport and Land use (WSTLUR) seeks original papers (not submitted elsewhere) on the interaction of transport and land use. Papers must be submitted by October 31st, 2016. WSTLUR membership is not required to submit a paper, and there is no limit on the number of papers an individual may submit. Each conference registrant may be a co-author on multiple papers, but there is a limit of one presentation per registrant.
---
Key Dates
Initial Papers Due to JTLU for Conference Consideration: October 31st, 2016 

Decisions about Conference Acceptance (Reviewer Comments Provided):  Early March 2017

Early Registration Deadline: April 1st, 2017

Most Recent Accepted Paper Drafts that have been uploaded to the JTLU Website are considered as the Conference Proceedings: Early May 2017

Conference: July 3rd-6th, 2017 

Revision Deadline for Publication Consideration. Responses to Reviewers and Revised Draft must be submitted to JTLU: August 2017
---
Program
The symposium will include four keynote speaker addresses, approximately 100 peer-reviewed paper presentations, and several technical and non-technical tours. Preliminary program to be added in April 2017.
Depending on the quality and alignment of the papers submitted in each topic area, up to four workshops will be organized to generate interactive discussion on specific themes listed above. Each workshop will include a summary presentation from a workshop leader followed by the presentation of 3 resource papers. All workshops should leave enough time for significant audience involvement.
---
Registration Information
Registration for the WSTLUR symposium will open in January 2017. Registration will be done online through the JTLU website.  Registration fees will be announced at that time. We anticipate offering discounted fees for attendees from developing countries as well as scholarships for students.
---
Brisbane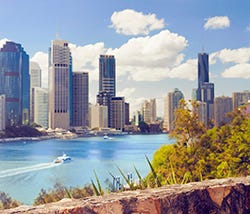 Brisbane is Australia's main sub-tropical city and the nation's third largest by population with over two million residents. The capital city of the state of Queensland, Brisbane enjoys year-round sunshine and blue skies. The conference venue will be near the vibrant downtown and Southbank precincts which have some of Australia's most visited galleries, museums and parklands, great restaurants and cafes, waterside walking and cycling paths, a public bicycle hire scheme, busways, river ferry terminals and a wide range of high-quality accommodation options. Brisbane is only an hour away from both the Gold Coast and Sunshine Coast, Australia's most popular beach resorts. Further north is the Great Barrier Reef. The conference is being hosted by Griffith University, the University of Queensland and Queensland University of Technology – Brisbane's largest and most prestigious teaching and research universities.
---
Questions?
For questions regarding the conference please direct them to:
WSTLUR Conference Co-Chairs
João de Abreu e Silva, Técnico Lisboa, joao.abreu.silva@tecnico.ulisboa.pt Robert Schneider, University of Wisconsin-Milwaukee, rjschnei@uwm.edu
Local Organizing Committee
Matthew Burke, Griffith University, m.burke@griffith.edu.au Neil Sipe, University of Queensland, n.sipe@uq.edu.au
WSTLUR Conference Organizing & Scientific Committees
---
Past Symposiums
2014 Symposium
June 24-27, 2014 Delft, the Netherlands
2011 Symposium
July 28-30, 2011 Whistler, British Columbia, Canada