Discover more from Transportist
A newsletter on transport
Over 3,000 subscribers
Transportist: February 2020
Welcome to the latest issue of The Transportist, especially to our new readers.  As always you can follow along at the  transportist.org or on Twitter.
We skipped the January Transportist Newsletter this year (confusing future archivists), and in its place we launched the TransportLab Newsletter. Most of you should have received that, but they are separate mailing lists.
I also attended TRB along with students and colleagues from TransportLab, and then keynoted at Transforming Transportation at the World Bank/WRI, so happy to meet many of you in person again or for the first time.
Sydney has been smoky, with poor air quality, but managed to avoid the brunt of the Australian bush fires which devastated other parts of Australia. Despite reports on US media, the whole continent is not on fire, though something like 6% of the state of New South Wales did burn, destroying far fewer than 6% of houses. It does look like the end-times though.
I am pleased to report that  The 30-Minute City: Designing for Access is now available for purchase
The book reads fast, with just over 20,000 words, and contains 50 images and 6 tables.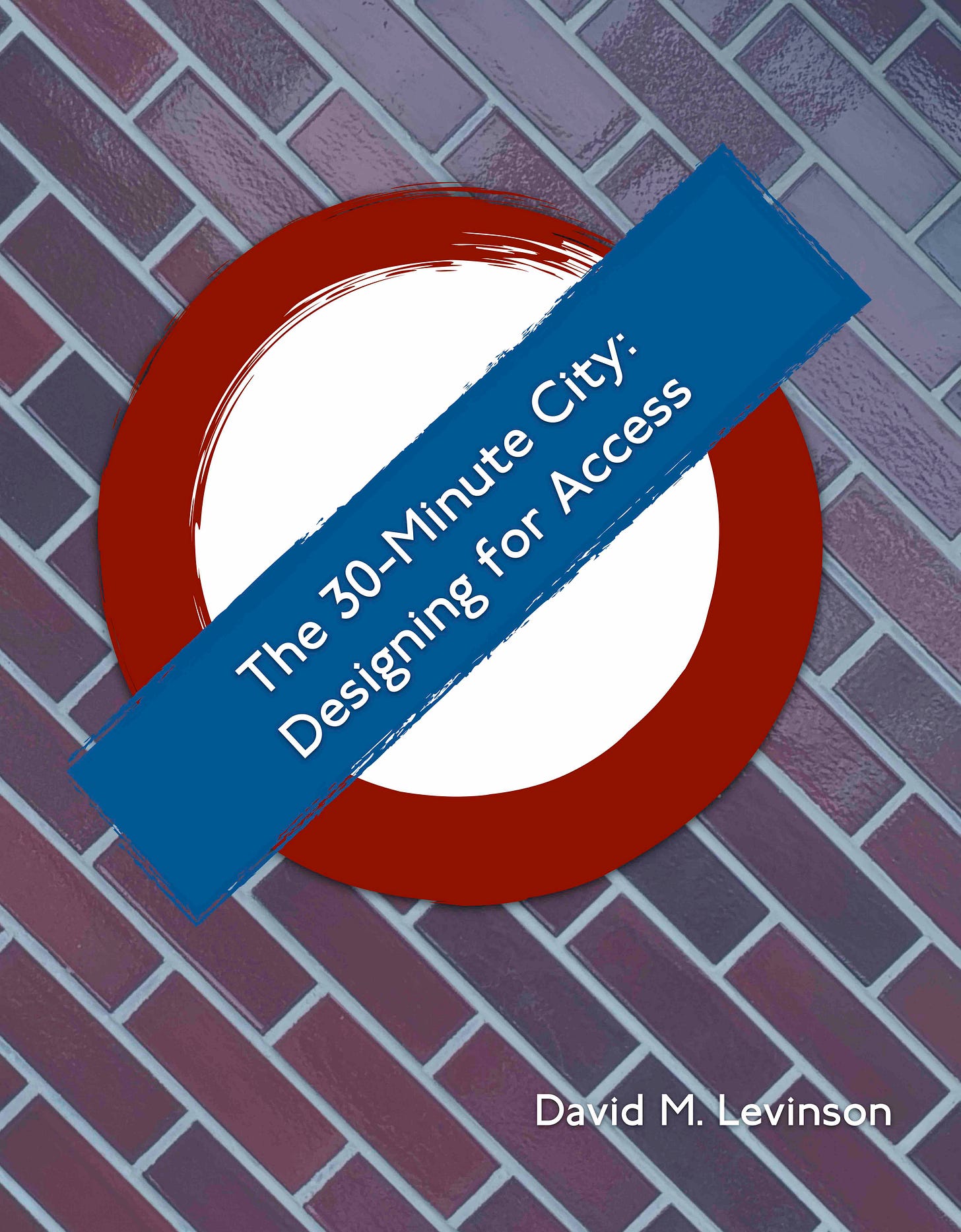 About
This book describes how to implement The 30-Minute City.  The first part of the book explains accessibility. We next consider access through history (chapter 2). Access is the driving force behind how cities were built. Its use today is described when looking at access and the Greater Sydney Commission's plan for Sydney.
We then examine short-run fixes: things that can be done instantaneously, or nearly so, at low budget to restore access for people, which include retiming traffic signals (chapter 3) and deploying bike sharing (chapter 5) supported by protected bike lane networks (chapter 4), as well public transport timetables (chapter 6).
We explore medium-run fixes that include implementing rapid bus networks (chapter 7) and configuring how people get to train stations by foot and on bus (chapter 8).
We turn to longer-run fixes. These are as much policy changes as large investments, and include job/worker balance (chapter 10) and network restructuring (chapter 9) as well as urban restoration (chapter 11), suburban retrofit (chapter 12), and greenfield development (chapter 13).
We conclude with thoughts about the 'pointlessness' of cities and how to restructure practice (chapter 14).
The appendices provide detail on access measurement (Appendix A), the idea of accessibility loss (B), valuation (C), the rationale for the 30-minute threshold (D), and reliability (E). It concludes with what should we research (F).


Table of Contents
Preface

1  Introduction 15

2  The 30-Minute City: Then and Now 19

3  Traffic Signals 25

4  On the Four Paths 29

5  Bikesharing 35

6  Timetable 37

7  Rapid Bus 39

8  Interface 45

9  Gradial: Or the Unreasonable Network 51

10  Job-Worker Balance 55

11  Urban Restoration 59

12  Retrofit 69

13  Greenfields and Brownfields 75

14  A New Profession: Urban Operations 81
Appendices
A  Theory 89

B  Accessibility Loss 93

C  Access Explains Everything 95

D  Why 30 Minutes? 97

E  Reliability 99

F  Research Agenda 101
Master of Transport at the University of Sydney
Classes start in early 2020, apply now for term 2.
Transport Accessibility Manual
The Committee of the Transport Accessibility Manual met at the Transportation Research Board Annual Meeting in Washington DC in January.

We discussed the first (preliminary) draft of the document, which was distributed to mailing list members before the meeting. Contact me directly if you would like to be added to the mailing list.
Talks and Conferences
I will be in Auckland, New Zealand for the IAEE - International Association of Energy Economics conference 12-15 February 2020. My talk will by on Friday Feb 14 1:40 - 3:20.

Dual Plenary 4: Energy Transition in Transport | Chair: Professor Frank Jotzo, The Australian National University . Speakers: Professor David Levinson, University of Sydney, Dr Amela Ajanovic, Vienna University of Technology, Dr Selena Sheng, University of Auckland.
(OGGB3 | 260-092)
Research
Published articles

Zhao, Xia, Cui, Mengying, and Levinson, D. (2020) Temporal Variations in Daily Activity Networks Using Smartcard Data Presented at the Transportation Research Board Annual Meeting, January 2020.

Walsh, Lexie, Xian, Tingsen, and Levinson, D. (2020) Walking and Talking: The Effect of Smartphone Use and Group Conversation on Pedestrian Speed.TeMA – Journal of Land Use, Mobility and Environment. 12(3), 283-294. [doi]
Transportist Blog
News & Opinion
Transit and Microtransit

Safety

Shared Vehicles

Electrification, Energy

Walking, Biking, Micromobility

Land Use

Retail

Wholesale, Logistics, Supply Chain, Freight

Aviation and Space

History

Social Justice

Fires

Professoring
Australian Expression of the month:
Books