Discover more from Transportist
A newsletter on transport
Over 3,000 subscribers
The Transportist: February 2018
Welcome to the February 2018 issue of The Transportist, especially to our new readers. As always you can follow along at the blog or on Twitter.

Thank you to all who purchased Elements of Access. Copies are still available.

Transportist Posts
Transport Jobs
Transport Scholarships
Transport News
Transit
[It is a requirement to use the phrase 'off-the-rails' in commentary about Sydney rail issues]
Roads
AVs

Quote: I just realized that with the advent of self-driving vehicles, we may soon get country songs where your truck leaves you too. [Marko Kloos on Twitter]

EVs
SVs/Taxis/Car Sharing
HGVs/Freight/Delivery/Retail
Intercity Rail
Land Use
Science
HPVs/Bikes/Pedestrians
Ferries
Social Networks
Linguistics
Trade
Research
Books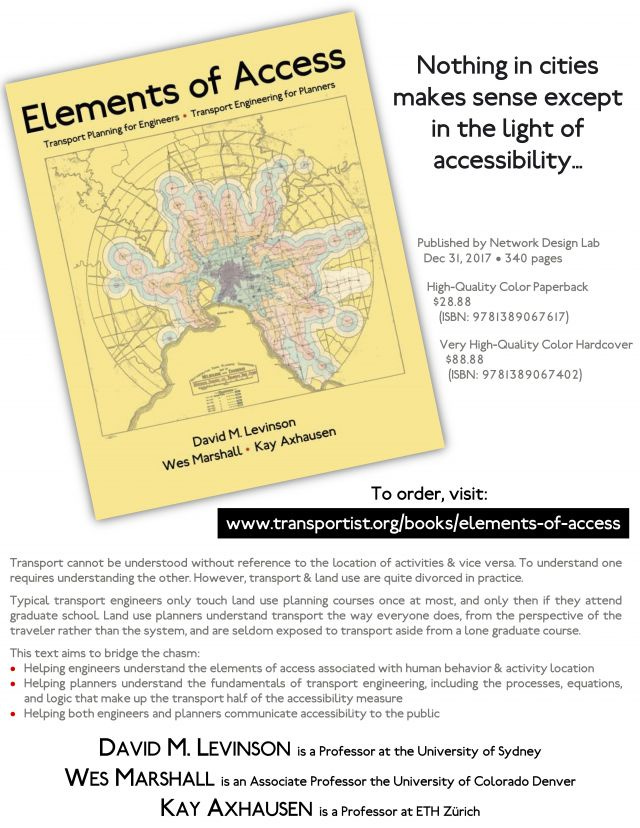 Now available:

Nothing in cities makes sense except in the light of accessibility. Transport cannot be understood without reference to the location of activities (land use), and vice versa. To understand one requires understanding the other. However, for a variety of historical reasons, transport and land use are quite divorced in practice. Typical transport engineers only touch land use planning courses once at most, and only then if they attend graduate school. Land use planners understand transport the way everyone does, from the perspective of the traveler, not of the system, and are seldom exposed to transport aside from, at best, a lone course in graduate school. This text aims to bridge the chasm, helping engineers understand the elements of access that are associated not only with traffic, but also with human behavior and activity location, and helping planners understand the technology underlying transport engineering, the processes, equations, and logic that make up the transport half of the accessibility measure. It aims to help both communicate accessibility to the public.

Purchase:

Still available ...
In this book we propose the welcome notion that traffic—as most people have come to know it—is ending and why. We depict a transport context in most communities where new opportunities are created by the collision of slow, medium, and fast moving technologies. We then unfold a framework to think more broadly about concepts of transport and accessibility. In this framework, transport systems are being augmented with a range of information technologies; it invokes fresh flows of goods and information. We discuss large scale trends that are revolutionizing the transport landscape: electrification, automation, the sharing economy, and big data. Based on all of this, the final chapters offer strategies to shape the future of infrastructure needs and priorities.
Purchase
Previous Issues