Discover more from Transportist
A newsletter on transport
Over 3,000 subscribers
Observations of Arncliffe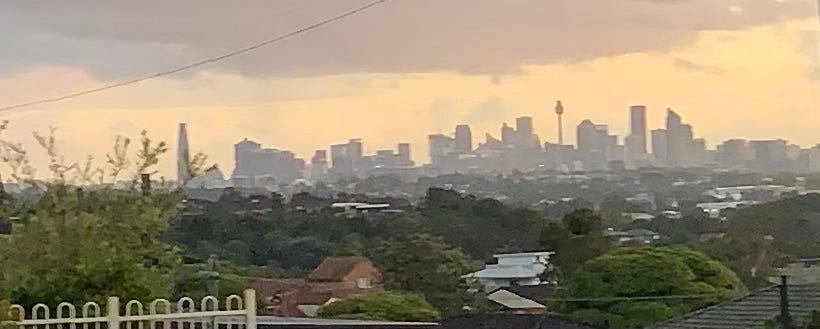 View of Sydney in the distance
After three and a half years in Australia, and having received permanent residency, we decided to buy a piece of the continent. The decision to buy was pretty straight-forward given the below 2% interest rates, significantly below the price of rent. When I first arrived in Sydney, interest rates were higher than rent, and so renting seemed the obvious answer (as well as the huge penalty for buying existing homes socked to non-permanent residents).
The buying process in Australia differs from the US in several key ways.
Auctions are dominant here, not just what happens at foreclosures. In our first attempt, we bid at an auction, significantly above the price guidance. It however went significantly above that. That was much higher than the Hedonic Model my research group has estimated, so I passed. In our second attempt, the house we ultimately bought in Arncliffe, had passed under at auction. The owners bid in the auction at a price higher than any participants would match, and so it 'passed under'. It was then listed the normal way with open house and accepting offers. We made an offer, and then a counter, and got an agreement on the house.
We hired a solicitor for the contract review (which would typically be done by the buyer in the US). The solicitor also arranges house inspections (although sometimes those are arranged by the selling agent, there is a literal principal/agent problem there). I've seen much more thorough inspections in the US. Normally settlement takes up to 42 days, but we got it done in 3 weeks.
This also required financing, which we did with an Australian Credit Union. Australia has gone through a severe demutualization process in a few sectors (notably property insurance, I couldn't find a mutual insurer left), but a few credit unions remain, as well as a few health insurers.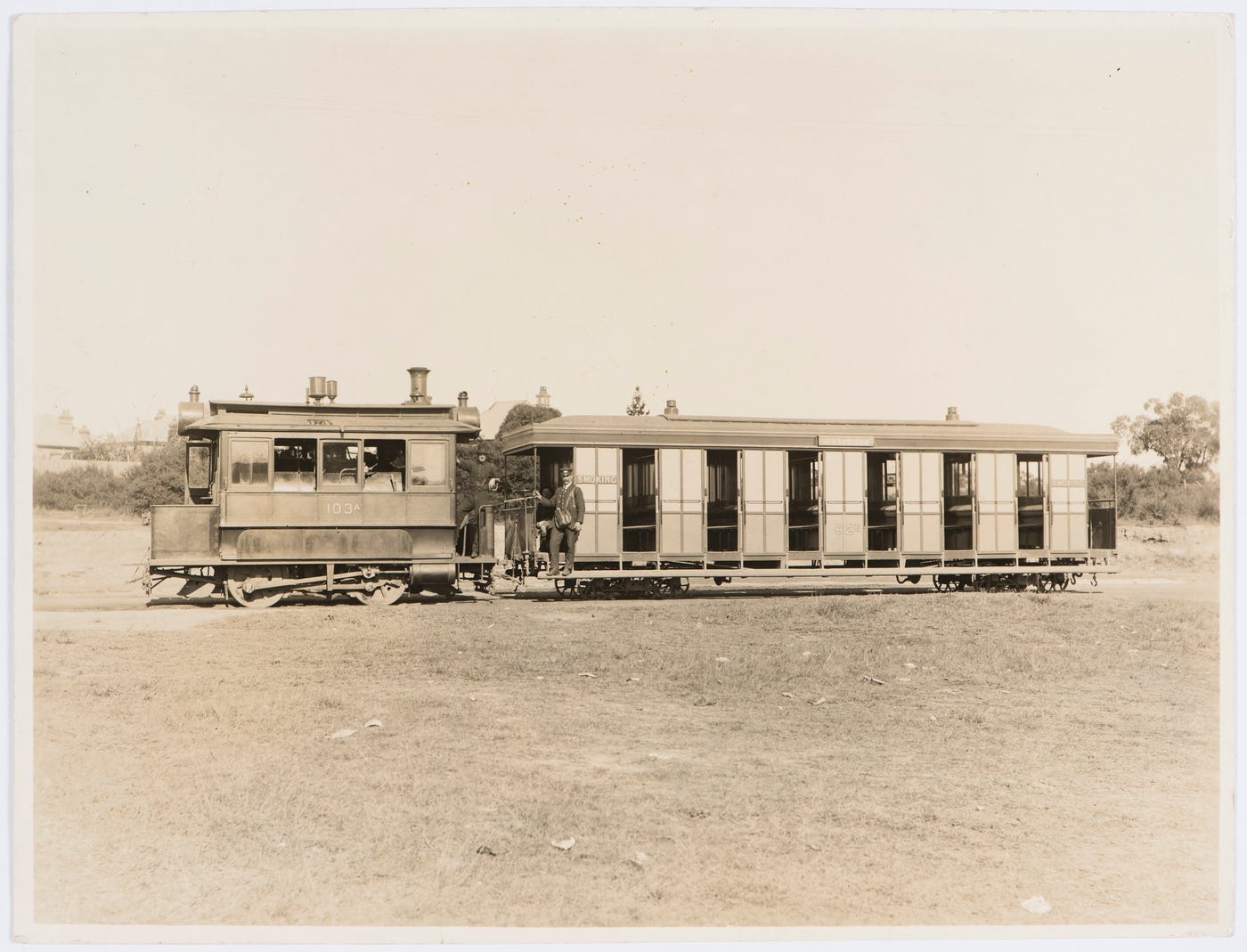 Arncliffe Steam Tram - Bexley Line. It's a bit more built up now.
So we have now relocated to Arncliffe, a suburb (i.e. a neighbourhood) of Sydney about 10 km south of the CBD. I believe COVID (and the prospects for working-from-home vs. the ghost town we call the University) made me more willing to move farther out than I would have previously preferred, but the main issue was just the price of real estate per square meter.
Arncliffe is near the Sydney airport, but not under the flight paths, so the flight noise is minimal (and especially minimal now with COVID restrictions, but in general you can't really hear the planes). Our house is literally on top of the M5 Motorway (or rather the Motorway is under the house, since the house was there first). So on top of it that Google Streetview thinks I live on the Motorway, and shows a picture of the tunnel instead of my house (they have been apprised of this fact and refuse to correct it). We cannot see, hear, feel, or smell the road. There is an fresh air intake location down the block, but since it is intake rather than output, it seems fine.
From a walking perspective we get a 68/68 from WalkScore, which somehow beats my old address in Alexandria that had a 22/72. I can only conclude WalkScore is not the most reliable accessibility measure.
Somewhat Walkable Some errands can be accomplished on foot.
Good Transit Many nearby public transportation option
Walking is fine, two train stations (Arncliffe and Turrella) on the T4 and T8 lines respectively are each ~12 minutes away (uphill in both directions). The lines have 10-minute frequency service during peak hours (but 30 minute service on weekends, not so good). There are a number of restaurants and shops within a 5 minute walk, and more near Arncliffe station. The shops are aligned along a former Tram line (from Arncliffe to Bexley along Wollongong Road), in two clusters, presumably the two stops. The clusters are not contiguously served by retail, as I guess the demand c. 1900-1929 when the Trams ran, was not high enough, and the tram was never electrified.
These retail clusters on Wollongong Road are not exactly contiguous with the larger cluster of shops adjacent to the Arncliffe train station, though it's only a block away from one of them. (Turrella has very little retail activity). There are multiple butchers and bakers, a fishmonger, a fruiterer and poulterer and one IGA supermarket, all within walking distance. There are no major grocery stores in convenient walking distance. Wolli Creek, the next station to the north on both lines has two supermarkets, and of course many Asian stores, but is a 25 minute walk, a bit too far for the daily shop. [A comprehensive retail analysis is below, from my family's list of stores one finds on shopping streets in Australia]. I have a personal preference for urban forms that arose during the tram (streetcar) era, and find suburban neighbourhoods from that era the most walkable and most pleasant. 
The retail on Wollongong Road straddles Arncliffe Park, which is a large open space with a soccer field and a cenotaph memorialising World War I dead. It also features a flock of Ibises and Cockatoos and a small cafe.  There is a gorgeous arcade of Gum trees along the diagonal path through the park.
Overall pedestrian conditions are pretty good for this kind of suburb, though there are missing footpaths on some sides of some street sections. On my street I think it has to do with the steepness of the cliffs, (we are near the top of a hill, garnering the view at the top of this post out the front door, and a glimpse of Botany Bay out the back windows), but on others there is no such excuse, and it is just assume pedestrians will cross the street twice to get where they are going. There are a few raised pedestrian crossings (Wombats), but there are a few missing. Similarly the kerb cuts for disability access are haphazard, and don't face curb cuts on the opposite side of the street where one might think they belong.

Trash Pickup is organised by the local Council (local municipality), which has few other functions in Australia. Trash is collected weekly, recycling fortnightly. That is unfortunate, and still reflects poor practices of the past. There is no garden waste or food waste pickup, as we had in the City of Sydney. Also no obvious way to deal with electronics, batteries, light bulbs, or hazardous chemicals without driving somewhere.  Strangely, the Council has a quarterly large item and miscellaneous pickup, so the streets are lined with stuff you might otherwise see in yard sale or headed for the tip (dump), but it's multi-day (the pickup is announced for say Monday, stuff goes out the Friday before, and isn't necessarily actually collected Monday, just that week). So people walk and drive around looking for free loot. A free-cycle-like free-for-all. Society accumulates lots of junk. The City of Sydney would pick up your large items when you contacted them, on demand. I don't know which is better for the environment, but the City is obviously more crowded and doesn't have space to let broken appliances accumulate, while the suburbs do.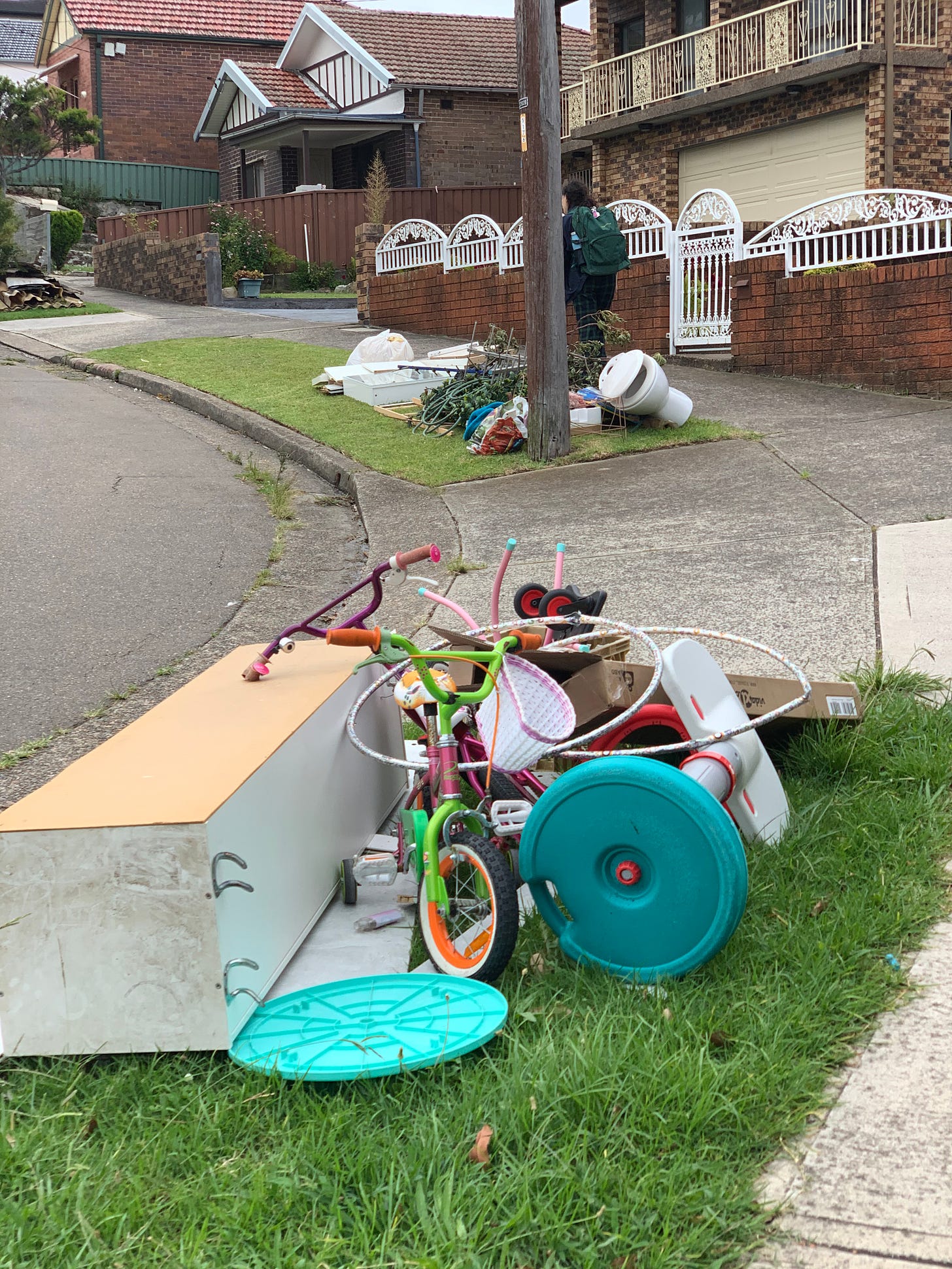 Trash pickup
Appendix:
The following activities can be found within walking distance of our house
Train Station 

Thai restaurant 

Schools / Primary, High, TAFE 

RSL

Poulterer / Chicken

Places of Worship / Church, Mosque, Synagogue 

Pizza place/Pide (Turkish)

Pharmacist

Pastry shop

Park

Newsagent/Lottery

Nail shop

Mixed Business

Massage

Locksmith 

Library 

Laundry 

Italian / Greek deli

Indian Restaurant

Hot bread (Bun Mi)

Grocer

Fruiterer

Fishmonger/chippie

Employment Agent

Dry cleaner 

Doctors office/Clinic/Surgery/GP

Dentist 

Day care/ Crèche / Nursery / Preschool 

Convenience 

Club

Chiropractor osteopathic 

Charbroiled chicken 

Cafe

Butcher 

Burger

Beauty salon

Barber

Baker 

AUS Post

Anzac Memorial

Alcohol wine cellars /Bottle shop/Liquor 
But the following cannot be found (apologies if I missed something, this is mostly from memory):
Accountant Tax

Adult store

Antiques lifestyle chachki 

Appliance/TV Repair

Art Supply 

Asian grocer

Bags/Luggage 

Bank

Betting 

Bike shop/skateboard/surf

Bistro

Books new and used

Books religious 

Bowling alley

Brothel

Candy shop / Nuts / Confection 

Car Hire

Car repair

Card store/stationery 

Cheesemonger 

Children's clothing 

Cinema

Christening clothes

Clothes

Cobbler

Comic books

Copy shop 

Crafts shop

Dim sim 

Discount Department Store

Dispensary/ pot shop

Dollar Store

Draper

Electronics

Exchange 

Fire Station/ Ambo

Florist

Function Hall /Meet Rooms

Funeral home

Furniture store

Games

Guns hunting outdoors army surplus

Gym

Haberdashery/male formal wear/rental

Hardware store

Headshop 

Herbalist

Hobby shop 

Home goods

Hotel / pub / bar / brewpub/ microbrewery 

Hotel / Hostel / Inn

Immigration agent

Insurance 

Jewelry / watch

Karate/Kung fu/tae kwan do/judo/assassin skill set training 

Kitchen equipment 

Knife sharpener 

Lawyer/Solicitor 

Lingerie/Underwear 

Medical Labs

Medicare Centrelink

Men's clothing

Milk bar

Millenary

Mini golf

Money Lender

Music instruments 

Natural Food Store

Op shop

Optician

Party 

Pawn shop

Perfume 

Pet store/groomer/vet

Phone store/technical (radio shack)

Pasta (Italian)

Podiatrist 

Pool hall, Billiards

Print Shop

Providore 

Razors

Realtor 

Record Store

Sandwich shop

Schlock pop culture 

Seamstress mending/tailor

Servo (Petroleum)

Shared Workspace

Spice shop

Spiritualist/Astrologer/Tarot

Sporting goods/Golf/Tennis

Sushi joint

Swimming recreation 

Tattoo

Tobacconist 

Town Hall with Clock Tower

Toy store

Travel agent

Tutoring 

Uniforms (School/Work)

Upholstery 

Used

Vacuum 

Video game arcade

Video sales/rental

Video conversion 

VIP lounges

Wedding /Bridal 

White goods

Women's clothing 

Video game sales