Discover more from Transportist
A newsletter on transport
Over 3,000 subscribers
Metropolitan Transport and Land Use: Planning for Place and Plexus (2nd Edition)
I got my copies, you should too ... Now available for order: Metropolitan Transport and Land Use.
As cities across the globe respond to rapid technological changes and political pressures, coordinated transport and land use planning is targeted as a solution and is the subject of increased interest.

Metropolitan Transport and Land Use, the second edition of Planning for Place and Plexus, provides unique and updated perspectives on metropolitan transport networks and land use planning, challenging current planning strategies, offering frameworks to understand and evaluate policy, and suggesting alternative solutions.

The book includes current and cutting edge theory, findings, and recommendations which are cleverly illustrated throughout using international examples. This revised work continues to serve as a valuable resource for students, researchers, practitioners, and policy advisors working across transport, land use, and planning.
About the Authors
David M. Levinson  is Professor of Transport at the University of Sydney School of Civil Engineering, Australia. From 1999 to 2016 he taught and served as Chair of Transportation at the University of Minnesota, USA, where this book was first crafted. He serves as the editor of the Journal of Transport and Land Use and is the author or editor of a dozen books.
Kevin J. Krizek is Professor of Environmental Design and Environmental Studies at the University of Colorado Boulder. He is Director in Environmental Design and serves as a Visiting Professor of "Cycling in Changing Urban Regions" at the Institute of Management Research at Radboud University, the Netherlands.
Contents
Action

Access: The Fundamental Force

Homebuying.

Jobseeking

Traveling

Scheduling

Exchange

Siting

Selling

Evaluation

Arranging

Assembling

Administering

Getting Beyond "Stuckness"
Reviews of the First Edition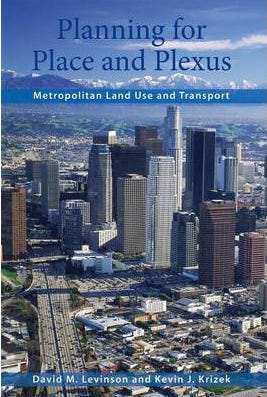 Levinson, David and Krizek, Kevin (2008) Planning for Place and Plexus: Metropolitan Land Use and Transport Routledge.
'A lively, engaging book...which uses neoclassical economic principles...in a digestible format. The authors go so far as to draw from the film "Thelma and Louise" to show how game theory can be applied in predicting whether someone will drive or take public transit. This provocative, highly relevant book deserves to be on the bookshelf of everyone concerned with urban planning and transportation.'
Robert Cervero, Professor and Chair Department of City and Regional Planning University of California, Berkeley
Purchase
The book is available from the following vendors.
You can order from any good independent bookstore as well: ISBN-13: 978-1138924260 ... ISBN-10:1138924261