Discover more from Transportist
A newsletter on transport
Over 3,000 subscribers
A Friendly Guide to Transport Planning | Human Transit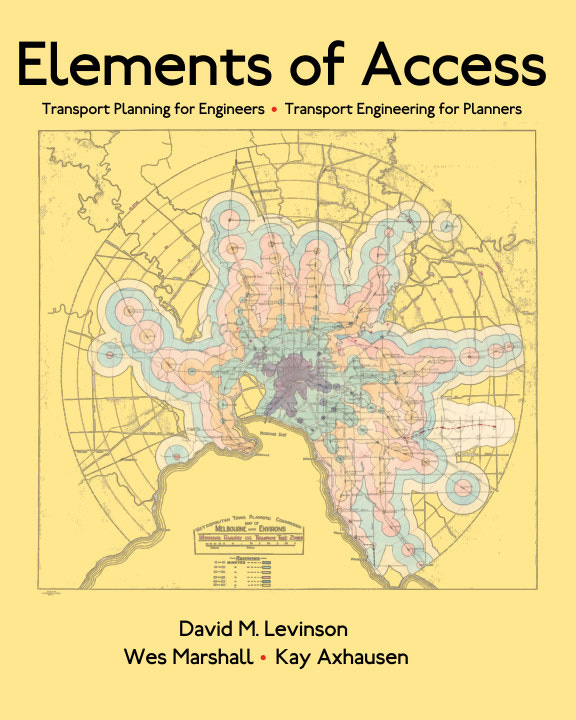 Elements of Access: Transport Planning for Engineers, Transport Engineering for Planners. By David M. Levinson, Wes Marshall, Kay Axhausen. Transit expert Jarrett Walker gives Elements of Access a nice review over at his blog Human Transit. I quote the first part here:
Access — where can you get to soon? — is, or should be, the core idea of transportation planning.  David Levinson has long been one of the leaders in quantifying and analyzing access, and this work kicks off this fine new book.  The cover — a 1925 map showing travel times to the centre of Melbourne, Australia — captures the universality of the idea.  Access is what  I prefer to call freedom: Where you can go determines what you can do, so access is about literally everything that matters to us once we step out our front door. But that's just the beginning of this very friendly book.  Elements of Access is really a tour of the whole field of transport planning, and its goal is to strike a balance between academic precision and readability.  In this, it's a great success.  I've never taken more pleasure from reading academic writing about transport.  The writing is mostly clear and easy to read, and deftly combines technical ideas with references to everyday life. The book is also easy to browse.  It's organized in units of 1-2 pages, grouped under six themes.  Photos are used well.  Footnotes appear in the otherwise white space on each page, so that there's no flipping to them, and interesting nuggets in them have a chance to catch your eye.  The book is also full of internal references, aiming for the structure of a hypertext to the extent that a physical book can.
  I first caught this review on Twitter.
For non-academic folks interested in the theory of transport planning, here's a friendly new book, full of readable explanations. My review: https://t.co/H2fnfR7MTU @trnsprtst

— Jarrett Walker (@humantransit) January 15, 2018
https://platform.twitter.com/widgets.js I am grateful it has been retweeted so many times and favorited even more. Now all of you should purchase the book! At the end of his review Jarrett notes we didn't cite his book, Human Transit, which is an unfortunate oversight which will undoubtedly be corrected in the second edition. You should read his book too. A review of Human Transit by Kari Watkins can be found in JTLU 5(3).